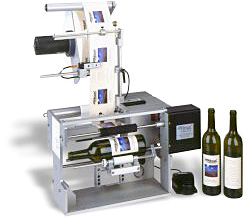 Features:
Roll-on labeling from ampoules to gallons.
Single or front & back labeling with a push of a button.
Fast changeover from one size to another.
The "roaming peeler", adjustment to support smaller diameter products like vials, markers and lip balms.
Foot switch activation.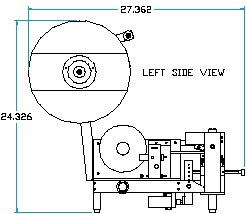 Specifications:
Dimensions: 18"W x 32"L x 25 1/4"H.
Product sizes: 1/2" to 6" diameters.
Web width: up to 9"
Label roll capacity: up to 12" diameter.
Air: 20PSI minimum.
Weight: 50 lbs.
Electric: 120Vac=/- 10%.
Video shows Optional Product Orientation Sensor